By

Jessica Clark

/ April 10, 2012
Social media never sleeps. On Monday, the trades were on fire with the news that Facebook had gulped up Instagram.  Such surprise announcements can disrupt months of careful planning by producers or stations about how best to engage users online. 
Working under volatile conditions like these can be unsettling. But here are a few tips to help steady you while the social media beasts restlessly circle.
Chart Your Course
The first step in choosing or switching to a new a social media platform is to figure out where you're going with it: who you want to reach, and why.
Seems obvious right? But too often, makers and managers gravitate to the hottest platforms without having a strong sense of if or how their audiences are using them. The handy graphic below from Socialbrite's session at last week's Nonprofit Technology Conference lays out tactics for user-centric planning. (Click to see a larger version.)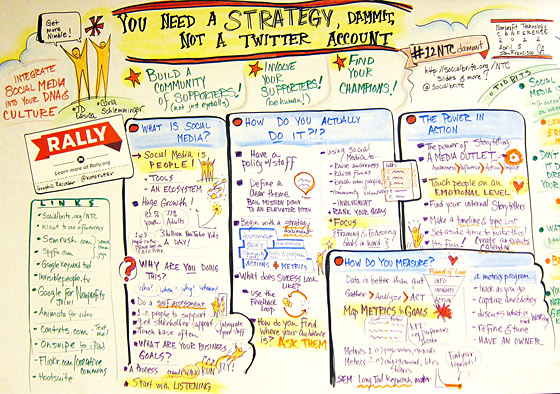 While this session was about Twitter in particular, these same principles apply to decision-making about any new platform: define your goals, involve users and stakeholders, regularly assess responses to see if you're getting any traction, and tell stories from the heart.
Gaining clarity about who you're engaging and why will help you to react more quickly when a digital tool you've invested time in undergoes a redesign or merges with a competitor. If you're already in close touch with your users, they'll be more likely to stick with you through interface shifts or a even a switch to another tool—and to provide helpful feedback in the process.
As the speakers in the graphic proclaim, charting your strategy—and correcting it regularly to match prevailing conditions—allows you to "Get more nimble!"
Find Your Guides
Another unsettling effect of the social media churn is the proliferation of instant experts. For every tool or platform, there are a boatload of guides, bloggers, analysts and consultants loudly offering opinions about how, when and why to use it.
For independent makers and public stations, a lot of this advice doesn't apply—it's either tailored to individual users or corporate brands. The trick is to find experts who have their eyes on the intersection of social media, news, and the public interest. For example, here are a few sources I turned to in order to prepare for Facebook's recent switch to the timeline format:
Nieman Lab: 

This one-stop compendium of journalism experiments got an 

early jump

 on the topic.

10,000 Words: This often-useful blog at the intersection of reporting and techology helped me suss out the difference between timelines on profiles vs pages.
Facebook + Journalists: Run by (and on) Facebook, this forum gathers timely examples of how reporters and outlets are using the platform.  
Beth Kanter: A guru on how nonprofits use social media, Kanter traced the redesign in a series of hands-on posts. 
Public Radio Program Directors Association: While their station-focused webinar with social media coach Janet Fouts is available to members only, the free e-book she provided offers a clear breakdown of the new features.
Got your own social media go-tos? Share them—where else—on AIR's newly reworked
Facebook page
.
Learn to Love Choppy Waters
Effective social media managers eventually get their sea legs, learning to see disruptions coming and correct for them. But even the most skeptical can navigate social media's turbulent waters by adopting a spirit of adventure.
"Even the digital natives constantly have to learn something new," writes former newspaper editor and current community engagement manager Steve Buttry in a post titled "
Dear Newsroom Curmudgeon...
" 
"I'm having as much fun as I've ever had in more than 40 years in journalism."
Credit: Image adapted from How to Draw a Shark